The Serica Supermatt Door Range
The Serica Supermatt Door Range incorporates extremely robust anti-scratch and anti-fingerprint technology with the added benefit of thermal healing of micro scratches for a perfect supermatt finish..
---
The collection contains 31 door styles in 13 different colours and finishes.
---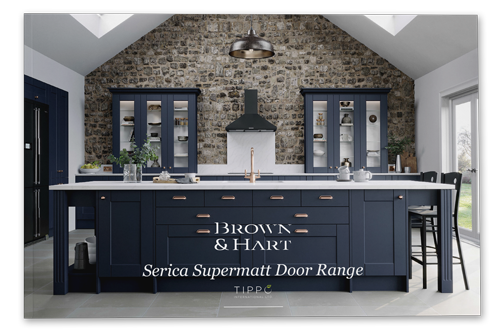 About Tippo International
Manufacturer of premium quality kitchen, bedroom and bath furniture and doors
Experience
We manufacture kitchen, bedroom and bathroom furniture. Our international service provides for our customers throughout the world.
Craftsmanship
All of our door styles and finishes are created with inspired passion and dynamically designed to be mixed and matched giving you unparalleled options.
Tippo International Ltd
Kilkeary,
Nenagh,
Co. Tipperary,
Ireland.

Phone: +353 (0)67 33133
Fax: +353 (0)67 339 33
e-mail: sales@tippo.ie

---